Mosquito Nets and Food Gifts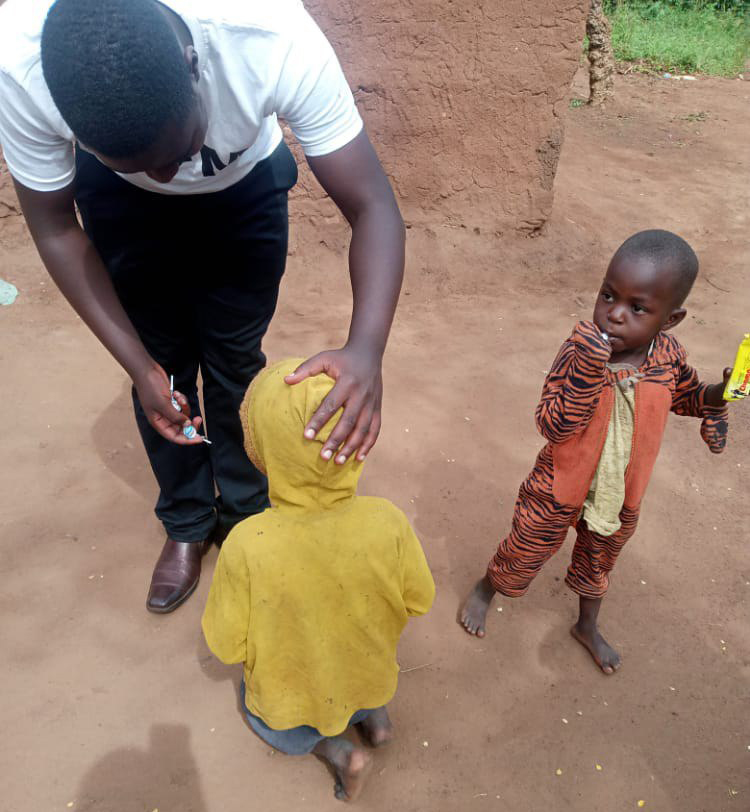 This post is from Dr. William Kirembwe
NOTE: Dr. William had a shirt made that said JesusFedMe on it. We do not promote our ministry this way, so that won't happen again. We try to maintain incognito as much as possible and only give credit to God, not our ministry.
A MIRACULOUS THURSDAY FOR NSANVU VILLAGE
Greetings, everyone from Jesus fed me. We had an excellent day for JFM in an isolated village called NSANVU in Uganda. Many locals were found living in dilapidated structures not fit for human life. Many are suffering from terrible illnesses, many are crippled and the majority lack food for daily living. However, such people received hope and brought back life to normal because of helping hands like "Jesus Fed me (JFM)" who helped them through by grace of God, this is what happened.

Distribution of mosquito nets
Not only do mosquito bites cause itching and inflammation, but they can also be vectors of serious diseases such as malaria and other blood-borne illnesses. Mosquito nets are one of the most powerful tools for protecting yourself from these dangerous insects. However, many people can not afford to buy these items, since JFM is dedicated to locating and helping the most vulnerable people, they came at the most needed time and distributed 50 insecticide-treated mosquito nets. Due to the overwhelming situation in Uganda, this community and a nearby village flooded the serving point, as you will watch in the video. We helped the locals to hang in these nets and taught them about their appropriate use. We threw away the old nets with holes.

Food gifts
Whoever received a mosquito net was served with food, soap, and a few other basics to aid them in day-to-day life to bring Jesus a reality in their lives as a provider. Guess what? Candy and biscuits are known for kids in Uganda, but locals were crying and fighting for candy and biscuits due to increased hunger. We also managed to pray for all these individuals. In addition to community distribution, JFM went to a nearby village and helped eight families with special needs. A single mom with a child suffering from cerebral palsy is a particular case. This is a vulnerable child, the mother stays home all the time to take care of her child. She narrated having a single or no meal every day. JFM came at the right time and gave enough food for some weeks and cash for a few basics. JFM created a smile on her face! Thank you.


Medical help
JFM started providing possible medical treatment to the communities we visit; in Uganda, someone instead dies in their house than facing a terrible medical bill. Being the strong outstretched hand of Jesus, JFM can not allow this, so we managed to treat these individuals with common conditions; we prescribed them medical treatment according to their appropriate diagnoses and cleared the medical account. It was a smile to many to alleviate their long-standing suffering. In this way, we show our love, and Jesus returns the Glory. Thank you.
About Author