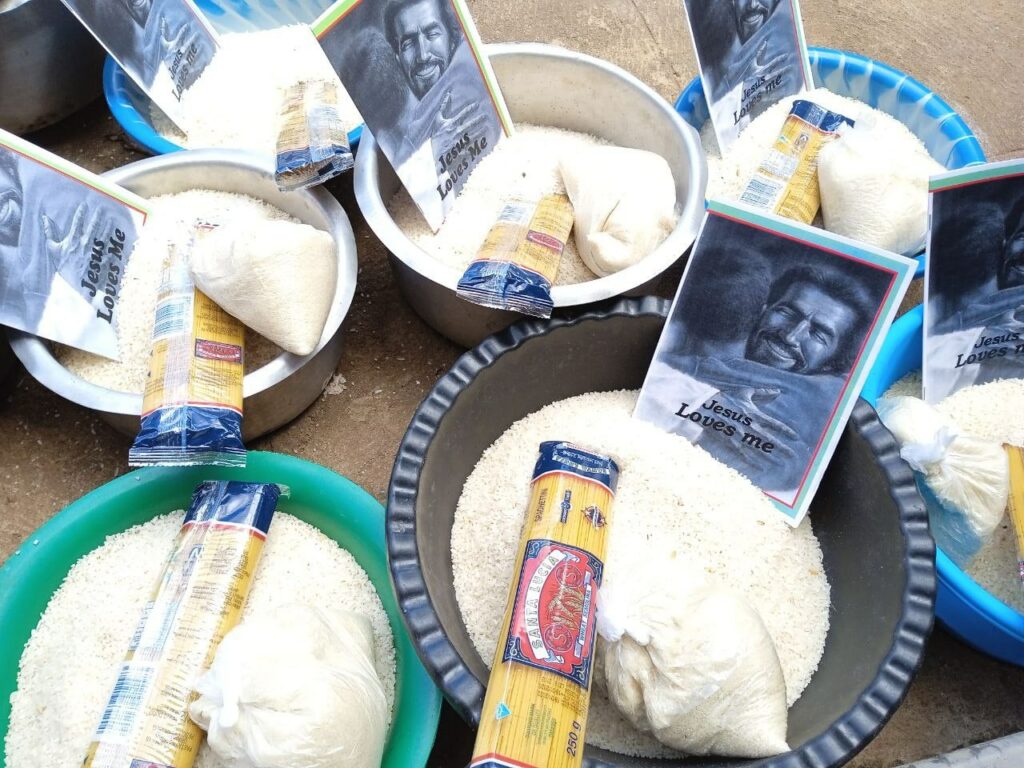 Posho – Posho is made by 'mingling' maize flour with water until it resembles a solid lump of mashed potato. It may not sound appealing, but when eaten with a delicious dish of spiced, stewed beans, it becomes something else.
Local Watermelon – (Citrullus lanatus) is a flowering plant species of the Cucurbitaceae family, and the name of its edible fruit. A scrambling and trailing vine-like plant, it was initially domesticated in Africa. It is a highly cultivated fruit worldwide, with more than 1,000 varieties.
Rice – 50 Kilos/110 lbs of rice processed to remove only the husks, called brown rice, contains about 8 percent protein and small amounts of fats and is a source of thiamine, niacin, riboflavin, iron, and calcium. We deliver 100 lbs of rice at a time. Rice is considered a treat in Uganda as it is often too expensive for the average person to stock.
Local Beans – Uganda is a surplus producer of beans and is currently exporting the surplus beans to neighboring countries. Uganda produces about 370,000 metric tonnes of beans annually. In Africa, the most crucial producer is Tanzania.
Matoke – Matoke, locally also known as matooke in Buganda, ekitookye in southwestern Uganda, ekitooke in western Uganda, maddootte in Lugisu, ebitooke in northwestern Tanzania, igitoki in Rwanda, and by the cultivar name East African Highland banana, is a starchy triploid banana cultivar originating from the African Great Lakes.
Sugar – The sugar extracted from sugar beet or sugar cane plants is identical to the sugar still found intact when you bite into fruits and vegetables. It is entirely pure and contains no preservatives or additives of any kind.
Tutti Fruity Suckers – Parties should be sweet and refreshing and will definitely be with these Tutti Frutti suckers! A yummy addition to your party supplies, these fruit-shaped and fruit-flavored suckers will be a sweet hit at a birthday party, summer celebration, or any other special occasion. Individually wrapped. We all love sweets at an early age, as do kids of this generation. Every home we visit, we find five kids and of course, they love such things which JFM comes with.


NON-EDIBLE

ITEMS ARE

INCLUDED WITH EACH GIFT



Adult Bible – We give an adult bible to the older folks when we deliver food. We have two types of Bibles. One is in English, and the other is in the native language of Lugandan.
Children's Bible – We give one children's bible to a family. The cost of bibles in Uganda is about $10 US dollars each. We do not include that cost when we estimate daily food allowances at $33.00 per gift. So, a single give per family is around $43.00 US dollars.
Sanitary Napkins – A sanitary napkin, sanitary towel, sanitary pad, menstrual pad, or pad is an absorbent item worn by women in their underwear when menstruating. Most teenage girls to whom we give pads to are unable to afford them and are often unable to go out in public.
Gospel tracts – As bibles are very expensive and limited as we can only afford to give out one or two bibles at a time, we have decided to create our own bible tracts to spread the word to many more people at a time.