Eight Mothers From Eight Families Receive Food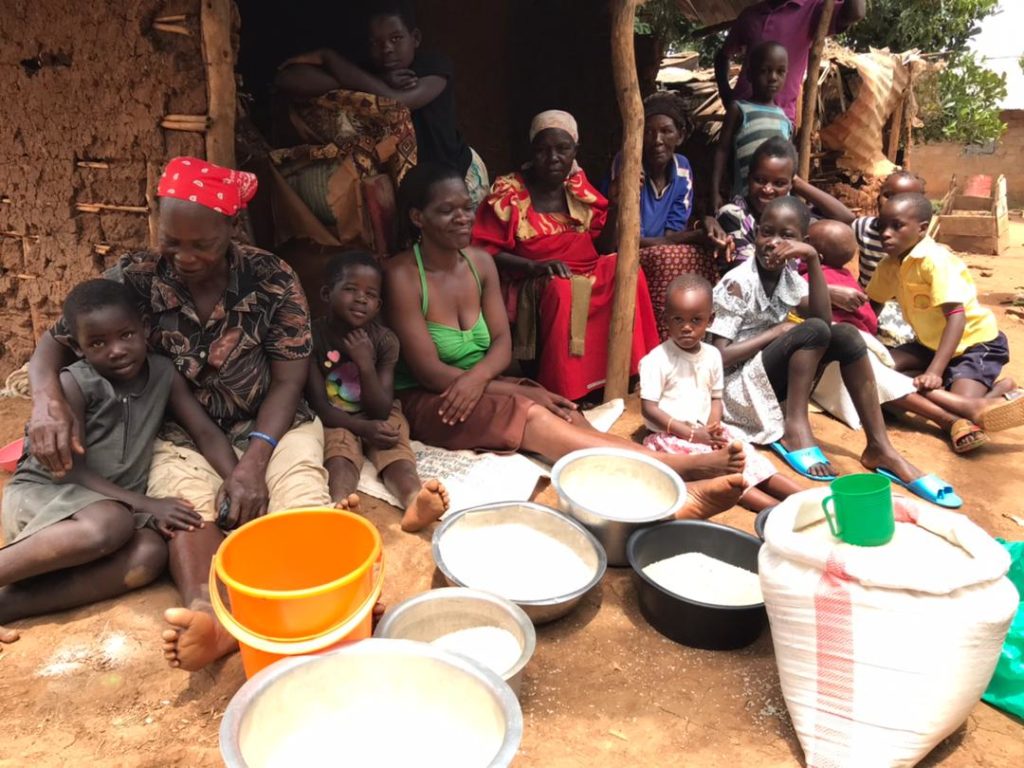 JFM's generosity continues as eight families are on cloud nine after receiving food relief today. Adults and children all gathered to collect free rice at Mwalo village in Wakiso district. At the break of the day Tuesday, October 26, I got a boda boda (Ugandan motorcycle taxi) on a muddy and slippery road, who struggled to maneuver the motorcycle loaded 50 kilograms (110 lbs) of rice. The muddy road did not make Mukasa's job easy (motorcycle driver), but he was determined to make it.
"It really wasn't easy. I found a number of vehicles stuck on the road, but I am grateful to God that I made it to reach in time," Mukasa said with a sigh of relief. "In such a rainy season, it is very difficult to deliver food. Sometimes we have to wait for hours for the rain to stop and the roads to clear," he added. Regardless of the weather, transporting food to needy persons is always challenging. There are bad roads, security risks and sometimes vehicle breakdowns. Fortunately, none of those hindered us from reaching our destination.
Mothers came with their kids, who helped to carry food on their heads. Mrs. Alinda had been left with little maize flour. So, to the children's disappointment, she decides rice will be for tomorrow. Today is posho again, she told her children. So let's enjoy our best meal tomorrow, she said. (smiles on her face). "The children don't like posho a lot. They like rice, and rice is their favorite food, in fact, the favorite for all of us, but it's too expensive to afford it. So we only eat it once in a blue moon", she said.
For now and next week, Mrs. Alinda and many more like her who received food items today are sure of at least two meals a day to keep them going.
They came with empty saucepans; they left with full saucepans. So indeed, one can say, "Jesus Fed Me."
About Author